In Chests, there are various parts that can upgrade arms. you should open them and collect parts.
Free ChestEdit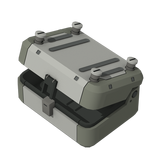 The Free chest is available once in every four hours.
It can be found near the Headquarters.
You can receive three chests within 24 hours. It is reset at every midnight, GMT +0.
Free chest contains parts needed to upgrade arms.
Depending on your commander level, the kind of part that you can receive is determined.
Victory Chest: Common, Rare, EpicEdit
When you win a battle in the Multiplayer mode, you can obtain a Victory Chest based on the battle results.
The grade of the chest varies by the number of war stars you get. In other words, a player winning with three war stars will get better parts than the player winning with one star.

Stage ChestEdit
If you have cleared each stage with three war stars in the Campaign mode, you will get a Stage Chest. 
Stage chest can be taken only once at each stage.