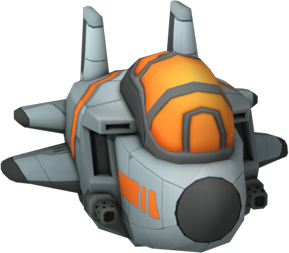 "This guy will fire a torrent of machine gun bullets in a long narrow range! Just make sure to watch out for the guided missile!
---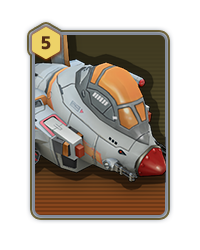 The Fighter is an attacker-type aircraft with a well-balanced Attack Damage, Health and Movement Speed. It fires projectiles starting from its deployment spot.
This is your first aircraft and you can conduct various attacks that you cannot do with Rifleman or Single Missile.
As its level goes up, its Health and its projectile Damage increases as well as the number of projectiles it fires.
The higher the level, the longer the Attack Range and the faster the Movement Speed.
| Battle Point | Cooldown Time | Parts |
| --- | --- | --- |
| 5 | 12sec. | Common Engine |
| Level | Health | Damage | Speed | Shots | Attack Distance |
| --- | --- | --- | --- | --- | --- |
| 1 | 180 | 70 | 12 | 13 | 10.4 |
| 1.1 | 181 | 70 | 12 | 13 | 10.4 |
| 1.2 | 182 | 70 | 12 | 13 | 10.4 |
| 1.3 | 183 | 70 | 12 | 13 | 10.4 |
| 2 | 187 | 72 | 12 | 14 | 10.92 |
| 2.1 | 188 | 72 | 13 | 14 | 10.92 |
| 2.2 | 189 | 72 | 13 | 14 | 10.92 |
| 3 | 193 | 74 | 13 | 15 | 11.25 |
| 3.1 | 194 | 74 | 13 | 15 | 11.25 |
| 3.2 | 195 | 74 | 13 | 15 | 11.25 |
| 4 | 201 | 77 | 13 | 16 | 11.68 |
| 4.1 | 202 | 77 | 13 | 16 | 11.68 |
| 4.2 | 203 | 77 | 13 | 16 | 11.68 |
| 4.3 | 204 | 77 | 13 | 16 | 11.68 |
| 5 | 210 | 80 | 13 | 17 | 12.24 |
| 5.1 | 211 | 80 | 13 | 17 | 12.24 |
| 5.2 | 212 | 80 | 13 | 17 | 12.24 |
| 5.3 | 213 | 80 | 13 | 17 | 12.24 |
| 6 | 221 | 83 | 13 | 18 | 12.6 |
| 6.1 | 222 | 83 | 13 | 18 | 12.6 |
| 6.2 | 223 | 83 | 14 | 18 | 12.6 |
| 6.3 | 224 | 83 | 14 | 18 | 12.6 |
| 6.4 | 225 | 83 | 14 | 18 | 12.6 |
| 7 | 233 | 86 | 14 | 19 | 13.3 |
| 7.1 | 234 | 86 | 14 | 19 | 13.3 |
| 7.2 | 235 | 86 | 14 | 19 | 13.3 |
| 7.3 | 236 | 86 | 14 | 19 | 13.3 |
| 7.4 | 237 | 86 | 14 | 19 | 13.3 |
| 8 | 245 | 89 | 14 | 20 | 13.8 |
| 8.1 | 246 | 89 | 14 | 20 | 13.8 |
| 8.2 | 247 | 89 | 14 | 20 | 13.8 |
| 8.3 | 248 | 89 | 14 | 20 | 13.8 |
| 8.4 | 249 | 89 | 14 | 20 | 13.8 |
| 8.5 | 250 | 89 | 14 | 20 | 13.8 |
| 9 | 258 | 92 | 14 | 21 | 14.07 |
| 9.1 | 259 | 92 | 14 | 21 | 14.07 |
| 9.2 | 260 | 92 | 14 | 21 | 14.07 |
| 9.3 | 261 | 92 | 14 | 21 | 14.07 |
| 9.4 | 262 | 92 | 14 | 21 | 14.07 |
| 9.5 | 263 | 92 | 14 | 21 | 14.07 |
| 10 | 271 | 95 | 14 | 22 | 14.3 |
| 10.1 | 272 | 95 | 14 | 22 | 14.3 |
| 10.2 | 273 | 95 | 14 | 22 | 14.3 |
| 10.3 | 274 | 95 | 14 | 22 | 14.3 |
| 10.4 | 275 | 95 | 14 | 22 | 14.3 |
| 10.5 | 276 | 95 | 14 | 22 | 14.3 |
| 11 | 284 | 98 | 14 | 23 | 14.72 |
| 11.1 | 285 | 98 | 14 | 23 | 14.72 |
| 11.2 | 286 | 98 | 14 | 23 | 14.72 |
| 11.3 | 287 | 98 | 14 | 23 | 14.72 |
| 11.4 | 288 | 98 | 15 | 23 | 14.72 |
| 11.5 | 289 | 98 | 15 | 23 | 14.72 |
| 12 | 299 | 102 | 15 | 24 | 15.12 |
| 12.1 | 300 | 102 | 15 | 24 | 15.12 |
| 12.2 | 301 | 102 | 15 | 24 | 15.12 |
| 12.3 | 302 | 102 | 15 | 24 | 15.12 |
| 12.4 | 303 | 102 | 15 | 24 | 15.12 |
| 12.5 | 304 | 102 | 15 | 24 | 15.12 |
| 13 | 314 | 106 | 15 | 25 | 15.5 |
| 13.1 | 315 | 106 | 15 | 25 | 15.5 |
| 13.2 | 316 | 106 | 15 | 25 | 15.5 |
| 13.3 | 317 | 106 | 15 | 25 | 15.5 |
| 13.4 | 318 | 106 | 15 | 25 | 15.5 |
| 13.5 | 319 | 106 | 15 | 25 | 15.5 |
| 13.6 | 320 | 106 | 15 | 25 | 15.5 |
| 14 | 330 | 110 | 15 | 26 | 16.12 |
| 14.1 | 331 | 110 | 15 | 26 | 16.12 |
| 14.2 | 332 | 110 | 15 | 26 | 16.12 |
| 14.3 | 333 | 110 | 15 | 26 | 16.12 |
| 14.4 | 334 | 110 | 15 | 26 | 16.12 |
| 14.5 | 335 | 110 | 16 | 26 | 16.12 |
| 14.6 | 336 | 110 | 16 | 26 | 16.12 |
| 15 | 346 | 114 | 16 | 27 | 16.47 |
| 15.1 | 347 | 114 | 16 | 27 | 16.47 |
| 15.2 | 348 | 114 | 16 | 27 | 16.47 |
| 15.3 | 349 | 114 | 16 | 27 | 16.47 |
| 15.4 | 350 | 114 | 16 | 27 | 16.47 |
| 15.5 | 351 | 114 | 16 | 27 | 16.47 |
| 15.6 | 352 | 114 | 16 | 27 | 16.47 |
| 16 | 366 | 119 | 16 | 28 | 16.8 |
| 16.1 | 367 | 119 | 16 | 28 | 16.8 |
| 16.2 | 368 | 119 | 16 | 28 | 16.8 |
| 16.3 | 369 | 119 | 16 | 28 | 16.8 |
| 16.4 | 370 | 119 | 16 | 28 | 16.8 |
| 16.5 | 371 | 119 | 16 | 28 | 16.8 |
| 16.6 | 372 | 119 | 17 | 28 | 16.8 |
| 17 | 386 | 124 | 17 | 29 | 17.11 |
| 17.1 | 387 | 124 | 17 | 29 | 17.11 |
| 17.2 | 388 | 124 | 17 | 29 | 17.11 |
| 17.3 | 389 | 124 | 17 | 29 | 17.11 |
| 17.4 | 390 | 124 | 17 | 29 | 17.11 |
| 17.5 | 391 | 124 | 17 | 29 | 17.11 |
| 17.6 | 392 | 124 | 17 | 29 | 17.11 |
| 18 | 406 | 129 | 17 | 30 | 17.4 |
| 18.1 | 407 | 129 | 17 | 30 | 17.4 |
| 18.2 | 408 | 129 | 17 | 30 | 17.4 |
| 18.3 | 409 | 129 | 17 | 30 | 17.4 |
| 18.4 | 410 | 129 | 17 | 30 | 17.4 |
| 18.5 | 411 | 129 | 17 | 30 | 17.4 |
| 18.6 | 412 | 129 | 17 | 30 | 17.4 |