Gold

---
Eternium

---
Energy Cube (Cube)

---
Gems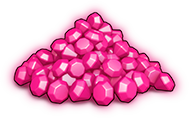 Gems are the premium in-game currency used to advance player's base.
Gems can be earned in-game by completing achievement or it can be purchased with money.
Gem can be used to instantly complete the construction or upgrade of buildings. 
They also can be used to buy other resources such as Gold, Eternium, Energy Cube in the Treasure menu. 
---
Timer
Timer is produced at the Time Compressor.
Timer reduces the remaining construction time of any building by 1 hour.
Ways to acquire Timers:

1. Produce at the Time Compressor,
2. Daily Login Reward
3. Season Pass missions (best way to collect Timers)