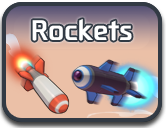 General Information
Powerful rocket missiles are crucial to deal with the Dark Fog and tile strategy of your enemy!
A new type of rocket missiles is unlocked as the level of your Headquarters increases.
You can level up the rocket missiles in the armory. A certain amount of parts and Gold are required for leveling up.
In the armory, you can decide which rocket missiles to be used in a battle.
You can freely launch rocket missiles anywhere on the enemy's map. You need to come up with the optimum strategy in consideration of the attack range and quantity of each rocket missile.
Rocket missiles can be shot down by Air Defenses or Hybrid Defenses.