"It's raining rockets!"
---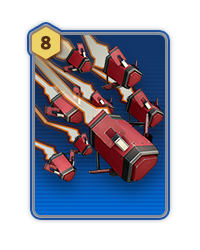 General Information
The Rocket Shower is a multi-target missile that can cause damage to a wide area at a time. You can launch up to 30 missiles depending on the level of the Rocket Shower.
You can clear Dark Fog or incapacitate many defenses all at once with its wide attack range, but the Health of each missile is relatively weak.
| Battle Point | Cooldown Time | Parts |
| --- | --- | --- |
| 8 | 22sec. | Rare Booster |
Level
Health

Damage

Speed

Missiles

Damage

Range

1
20
350
20
20
1.5
1.1
20
354
20
20
1.5
1.2
20
358
20
20
1.5
1.3
20
362
20
20
1.5
2
22
380
20
21
1.5
2.1
22
384
20
21
1.5
2.2
22
388
20
21
1.5
2.3
22
392
20
21
1.5
3
24
410
20
22
1.5
3
24
414
20
22
1.5
3.1
24
418
20
22
1.5
3.2
24
422
20
22
1.5
3.3
24
426
20
22
1.5
4
26
444
20
23
1.5
4.1
26
448
20
23
1.5
4.2
26
452
20
23
1.5
4.3
26
456
20
23
1.5
4.4
26
460
20
23
1.5
5
28
478
20
24
1.5
5.1
28
482
20
24
1.5
5.2
28
486
20
24
1.5
5.3
28
490
20
24
1.5
5.4
28
494
20
24
1.5
5.5
28
498
20
24
1.5
6
31
518
20
25
1.5
6.1
31
522
20
25
1.5
6.2
31
526
20
25
1.5
6.3
31
530
20
25
1.5
6.4
31
534
20
25
1.5
6.5
31
538
20
25
1.5
7
34
558
20
26
1.5
7.1
34
562
20
26
1.5
7.2
34
566
20
26
1.5
7.3
34
570
20
26
1.5
7.4
34
574
20
26
1.5
7.5
34
578
20
26
1.5
8
37
598
20
27
1.5
8.1
37
602
20
27
1.5
8.2
37
606
20
27
1.5
8.3
37
610
20
27
1.5
8.4
37
614
20
27
1.5
8.5
37
618
20
27
1.5
9
41
643
20
28
1.5
9.1
41
647
20
28
1.5
9.2
41
651
20
28
1.5
9.3
41
655
20
28
1.5
9.4
41
659
20
28
1.5
9.5
41
663
20
28
1.5
9.6
41
667
20
28
1.5
10
45
692
20
29
1.5
10.1
45
696
20
29
1.5
10.2
45
700
20
29
1.5
10.3
45
704
20
29
1.5
10.4
45
708
20
29
1.5
10.5
45
712
20
29
1.5
10.6
45
716
20
29
1.5
11
49
741
20
30
1.5
11.1
49
745
20
30
1.5
11.2
49
749
20
30
1.5
11.3
49
753
20
30
1.5
11.4
49
757
20
30
1.5
11.5
49
761
20
30
1.5
11.6
49
765
20
30
1.5
12
53
790
20
32
1.5
12.1
53
794
20
32
1.5
12.2
53
798
20
32
1.5
12.3
53
802
20
32
1.5
12.4
53
806
20
32
1.5
12.5
53
810
20
32
1.5
12.6
53
814
20
32
1.5
</div>